Mission Statement:
Southwest Avian Solutions means Quality Service - to provide effective, innovative solutions for Bird and Bat control problems to our customers.
Vision Statement:
To have Southwest Avian Solutions regarded by both our customers and employees alike with appreciation and caring for being trustworthy, honest and able to solve all of our customers bird and bat control problems.
Quality of Service:
Do it right the first time, on time, every time, even when no one is watching which is most of the time. We are accountable to our customers, peers, and ultimately to God in all things we do.
Customer Satisfaction:
We get called on to be professional problem solvers. The customer is entitled to be satisfied with the look and results of our work.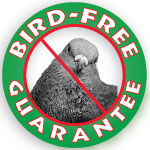 Our Company & some of our Credentials

After doing 5000+ buildings and structures as AzWNS we have never had a complaint filed with BBB or OPM Commission in 32 years of doing bird control or pest control in Arizona.

Former owner Aaardvrak Pest Control, Inc. 1981 - 1997

Former owner of Arizona Wings N' Stings 1997 - 2014

Family owned and operated since 1997

Better Business Bureau Program Member - A++

ADA Structural Pest Control Licensed in Arizona #5474

Have Cage code, Federal Ein # for government work

Fully insured - from homes to hangars.

Owner is a speaker on bird control at national conventions

Member of Phoenix Chamber of Commerce

Members Arizona Pest Professional Organization - AZPPO

Member NWCOA (Nuisance Wildlife Control Organization)

Member of National Pest Management Association

Member of NPMA Wildlife Leadership Group

Certified Bird Barrier Bird Control Installers
Certified Bird Be Gone Authorized Installers

Installer of Hotfoot, Nixalite, Fly-bye, Bird-X, BirdBuffer, OvoControl and Bird-Tec control and deterrents products

plus many others.



Types of Facilities Serviced
We have serviced 1000's of homes and businesses along with many different and unusual types of structures like freeway underpasses, gas station canopies, cooling towers, billboards, parking garages, casinos, libraries, multi-story buildings, warehouses, hangars, hospitals and any other structure where birds are a problem or hazard.





Hours




Business hours are 8:30 am -5:00 pm Monday through Friday

Saturday hours are 8:30 an - 3:00 pm


Same day service when available depending on time of year.

Payment plans including cash, check, Visa/ Master/Discover & American Express Cards upon completion of our work